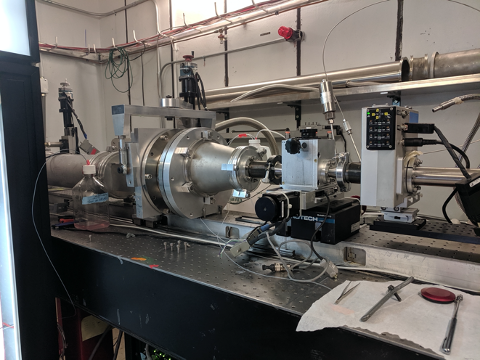 Instrument Overview
BioSAXS is a popular technique for obtaining structural information from biomolecules in solution:
determining physiological oligomeric state
validating proposed models of complexes
building complexes from monomers or known fragments
studying protein-protein interactions under extreme conditions
refining pseudoatomic models
categorizing discrete folded and unfolded states
finding volume fractions in mixtures
calculating molecular volume, radius of gyration, diameter
quantifying changes in flexibility
measuring pair distance distribution functions
computing low-resolution electron density
See our general BioSAXS website for more information.
Specifications
We can provide BioSAXS data routinely on samples at up to 400 MPa (4 kbar). Measurements at up to 600 MPa are available upon special request. Many protein samples are not monodisperse, but rather consist of mixtures of oligomers in equilibrium that must be separated for analysis. We are the only facility in the world that can also perform size-exclusion and ion-exchange chromatographic separations at up to 100 MPa while performing simultaneous BioSAXS measurements.
Visit our Beamline Specifications website for further information.
How to Obtain Access
The HP-Bio/BioSAXS facility runs 24 hours a day, 6 days a week for three 8-week periods during the year. Synchrotron beamtime is available free of charge to qualified researchers worldwide doing non-proprietary work through a standard online proposal mechanism.
Details can be found at our website.
Principal Investigator
Richard Gillilan Cornell University, USA
Typical Results