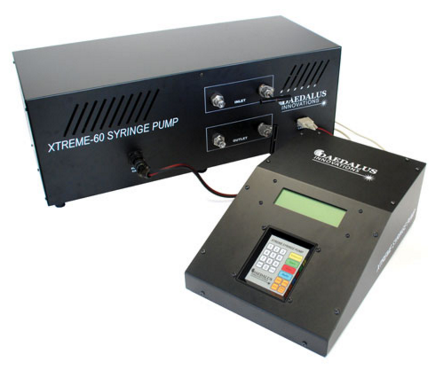 Instrument Overview
The RPI NMR Core Facility houses a Bruker 600 MHz Wide-Bore Solid-State 14T NMR spectrometer which can be used with the Royer lab high pressure system from Deadalus, Inc.
See our instrument website for more information.
Specifications
The Xtreme 60 high pressure pump, utilizing a high-torque motor and a precise computer control the Xtreme 60, is capable of generating pressures up to 4 kbar with even relatively non-compressible water as the pressure generating fluid. Two ceramic high pressure cells are available rated to 2.5 and 3 kbar, respectively.
Visit our Nuclear Magnetic Resonance Instrument website for further information.
How to Obtain Access
The NMR facility was established with the mission of becoming a regional center for open use by both academic and industrial researchers throughout the upstate NY community and beyond. Therefore, all researchers interested in utilizing these facilities (including the scheduling of training, and to obtain instrument time and rate information) are highly encouraged to contact Scott McCallum, the Director of the NMR core facility.
Details for instrument access can be found at our website.
Principal Investigator
Catherine Royer Rensselaer Polytechnic Institute, USA
Scott McCallumNMR Core Director at Rensselaer Polytechnic Institute, USA
Typical Results